Rent a Wedding Tent – For a Great Tent Wedding
Tents can be rented relatively cheaply from a tent rental company. Often you get a flat-rate weekend offer that is even cheaper for self-assembly and self-collection. A simple marquee for about 50 people can be obtained from a good tent supplier in Abu Dhabi from 2000 aed per weekend.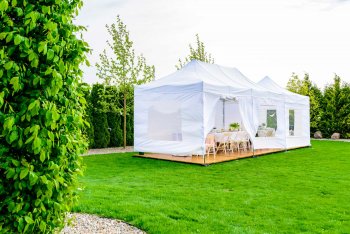 At the top, there are of course almost no limits to the tent rental costs. One or the other tent rental company offers, for example, a noble white marquee with window awnings and a chic, lacquered wooden floor including delivery and assembly and dismantling for around 1200 euros for a weekend.
Which tent the tent rental company ultimately delivers for the wedding depends primarily on your taste and of course the number of people. If you celebrate the whole wedding in the open air or in a tent, you need a larger wedding tent. If only the wedding ceremony or the champagne reception takes place outdoors, smaller tents or even individual pavilions are sufficient.
The tent rental company in your area will give you professional advice and share experiences with you.
One thing is certain in any case: a wedding tent makes you "independent of the weather" at an outdoor wedding .
2. Where can I find
If you want to rent a tent for a wedding or hen party, it is best to look around on the Internet. You will also find a tent rental in every big city that offers you the right solution for your concerns.
When choosing a "full service" option, make sure that the tent rental company has experience with smaller celebrations such as weddings and that enough staff is available.
It would be annoying if something went wrong at the tent wedding.
Tip: pay attention to the underground! If the entire wedding takes place in a tent, then the floor must be really flat and easy to walk on.
3. Decoration for your wedding tent
If you want to rent a tent for the wedding, here are some nice decoration ideas:
4. Inspirations from real tent weddings
Elegant wedding in the tent of Stephanie and Mark
The celebration was decorated a little darker and therefore very atmospheric with candles and lush floral decorations in bordeaux and dark green. Hanging everything up with cloth is a great way to add a more elegant touch to the marquee.